Canon Patent: Automatic Self-composing Selfie Stick (extends, retracts, changes angle)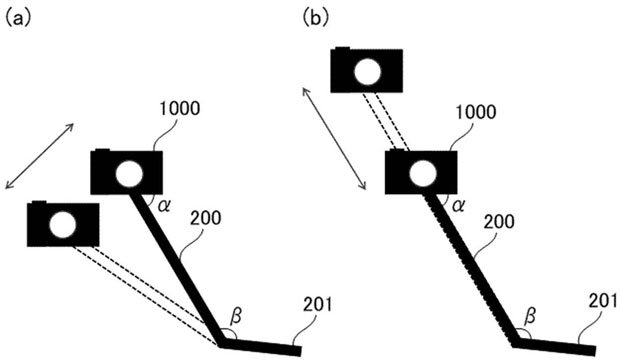 You read it right. This Canon patent application might refer to a selfie stick that automagically adjusts length and angle to take the perfect selfie.
Canon patent application 2021040089 (published 9/26/2022, Japan) discusses methods and technology for an automatically self-composing, robotic selfie stick. From the patent literature:
An object of the present invention is to provide an imaging device capable of adjusting the composition in real time when taking a selfie.

An imaging apparatus as one aspect of the present invention includes an imaging unit, an extendable rod attached to the imaging unit, a grip provided on the rod, and a target composition and a current composition of the imaging unit. control means for adjusting the composition of the imaging unit based on the difference, wherein the control means controls the focal length of the imaging unit, the first angle between the imaging unit and the rod, the grip unit and the At least one of a second angle with the bar or the length of the bar is changed to adjust the composition.
The Canon patent's selfie stick adjusts the composition of a selfie by recognizing the subject and automatically extending or retracting the stick, and by adjusting the angle. A fully automatic composition for the perfect selfie.
The Canon patent was spotted by Digicame Info. More Canon patent applications are listed here. Some particularly interesting patent applications we think might get into production are these: