Canon Patent: Catadioptric Optical System With Image Stabilisation And Inner Focus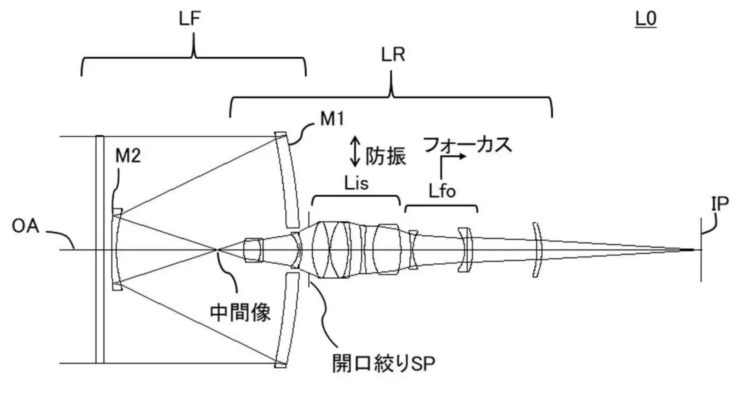 A new Canon patent application. It's for a rather complex catadioptric optical system with inner focusing and image stabilisation.
Canon patent application 2022-45962A discusses optical formulas for a catadioptric lens.
PROBLEM TO BE SOLVED: To provide a catadioptric reflection optical system capable of realizing good imaging performance with a compact configuration.

As an imaging optical system used in an imaging device, the total length of the lens (distance from the lens surface on the object side to the image surface) is short, the size is small (compact), and the optical performance is high at the time of focusing and vibration isolation. It has been demanded.
According to the configuration disclosed in Patent Document 1, it is possible to realize a catadioptric system having a relatively large aperture and high optical performance while shortening the overall lens length. However, in the configuration disclosed in Patent Document 1, the focal length of the entire catadioptric system and the objective lens group is large, and the correction of chromatic aberration and the like is insufficient, so that compact and good imaging performance is realized. I can't.
Therefore, the present invention provides a catadioptric system capable of achieving good imaging performance in a compact configuration and an image pickup apparatus having the same.
Example 1
Focal length: 1200mm
F value: 8.02
Half angle of view: 1.03
Image height: 21.64
Overall length: 380.02
Back focus: 100.01
Example 2
Focal length: 1200mm
F value: 11.00
Half angle of view: 1.03
Image height: 21.64
Overall length: 286.02
Back focus: 44.99
Example 3
Focal length: 800mm
F value: 5.60
Half angle of view: 1.55
Image height: 21.64
Overall length: 340.01
Back focus: 49.58
As always, this Canon patent was spotted by asobinet. More Canon patent applications are listed here. Some particularly interesting patent applications we think might get into production are these: