Researchers at the German Institut für Mikroelektronik Stuttgart have developed an image sensor that makes it almost impossible to blow highlights with.
What this image sensor does, is using "self resetting pixels", i.e. pixels that don't clip when they get saturated but instead starts over and counts the times it has started over. From the research paper's abstract:
Conventional CMOS image sensors with a linear transfer characteristic only have a limited dynamic range (DR) of about 60–70 dB. To extend the dynamic range considerably, the already successfully demonstrated concept of a linear self-reset pixel was employed in this work. With the self-reset concept the limit of the maximum analyzable photo generated charge (Qmax) during the exposure time is extended to a multiple of the saturation charge of the photo diode (Qsat) by asynchronous self-resets of the photo diode. Additionally, the remaining charge at the end of the exposure time is evaluated to increase the resolution of the opto-electronic conversion. Thus we achieved pixels with a DR of more than 120 dB combined with an improved low light sensitivity using a pinned photodiode.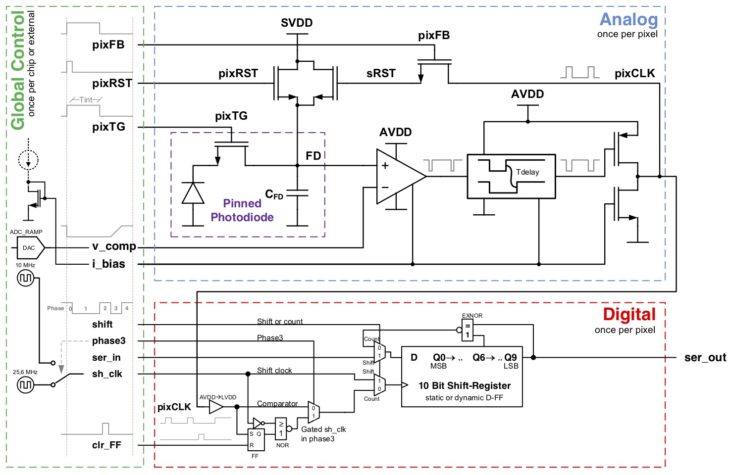 In other words: you don't have to worry about your exposure in order to save highlights in your image. Instead, you can set the best exposure for your subject and safely snap knowing that no highlights will be blown out.
This image sensor is a prototype and likely far from going into production. Never the less, it's a technological innovation that sooner or later will be featured on image sensors.
The full paper "Realization and opto-electronic Characterization of linear Self-Reset Pixel Cells for a high dynamic CMOS Image Sensor" by Stefan Hirsch, Markus Strobel, Wolfram Klingler, Jan Dirk Schulze Spüntrup, Zili Yu, and Joachim N. Burghartz, is available here.
Let's hope it's something Canon will research too.
[via
Image Sensors World
]