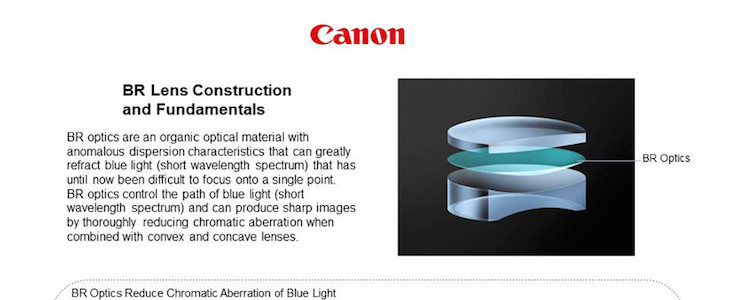 Blue Refractive (BR) optical elements are employed on the new Canon EF 35mm f/1.4L II lens.
Canon Develops New Camera-Lens Optical Element That Enables Extremely High Levels Of Chromatic Aberration Correction
MELVILLE, N.Y, August 27, 2015 – Canon U.S.A., Inc., a leader in digital imaging solutions, today announced that its parent company, Canon Inc., has developed Blue Spectrum Refractive (BR), a new optical element for use in camera lenses that corrects chromatic aberrations at an extremely high level to achieve superb imaging performance.
The new Canon-developed BR optical element offers characteristics that significantly refract blue light, which lies within the short-wavelength range, to achieve impressive levels of chromatic aberration correction for outstanding imaging performance. The BR optical element, positioned between two glass lens elements to create a BR lens, will make its debut in the new EF 35mm f/1.4L II USM wide-angle fixed-focal-length lens, which is scheduled to go on sale in October 2015.